One Place for all of Your Customer Service Needs!
Our Deaf, bilingual ASL/LSQ Customer Service Representatives (CSRs) are trained to get you the help you need. Whether it's a technical question, a CAV policy question, a request for information or if you'd like to leave a commendation or comment for us – our CSRs are standing by to help you.
| | |
| --- | --- |
| Pacific Time | 6:00 AM – 6:00 PM |
| Mountain Time | 7:00 AM – 7:00 PM |
| Central Time | 8:00 AM – 8:00 PM |
| Eastern Time | 9:00 AM – 9:00 PM |
| Atlantic Time | 10:00 AM – 10:00 PM |
| Nfld Time | 10:30 AM – 10:30 PM |
Please note: Customer Service is closed on Saturdays and Sundays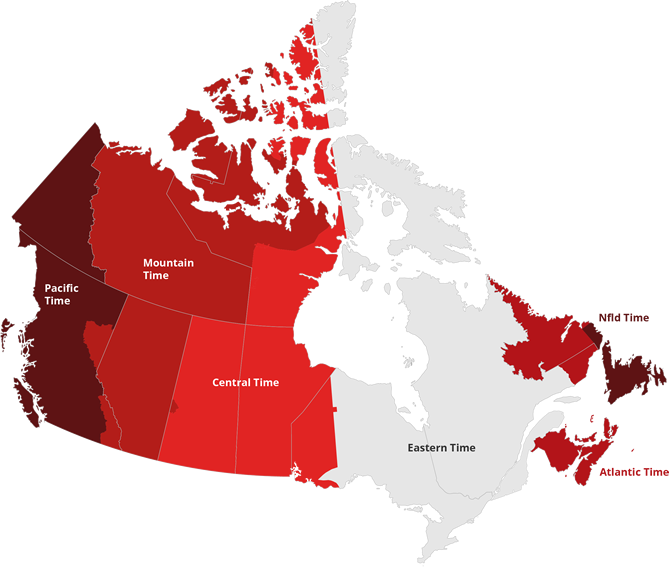 Customer service is closed on the following holidays:
New Year's Day
Good Friday
Easter Monday
National Patriots' Day (Victoria Day)
St. Jean Baptiste Day (observed Friday June 23, 2023)
Canada Day

Labour Day

Thanksgiving
Remembrance Day
Christmas Day
Boxing Day
You can contact Customer Service via:
| | |
| --- | --- |
| Video: | ASL or LSQ: Dial 9050 within the app. |
| Email: | support@SRVCanadaVRS.ca |
| Telephone: | English and French 1-800-958-5856 (9:00am to 6:00pm ET) |
| Live Chat: | Live chat is available during Customer Service hours on all the latest version of the Canada VRS application. |
Canada VRS Resource Centre
Solve any problems yourself with the Canada VRS Resource Centre. Use it to troubleshoot your questions related to: installing, updating and customizing the app, registration, making a call, app features and much more.
How Does Customer Service Work?
When a CSR greets you, they will ask you for some basic information e.g. your name, VRS number and email address.
They will also open a customer contact form to document your question or concern. We call this a "ticket" and we use this to capture the reason for your call and direct it to the right person to get you the information you need. The ticket is closed when the customer's question or request has been provided.
At the completion of your contact with the CSR, the tracking system will automatically send you the ticket number for your records. A second email will be sent to you with a survey so you can tell us if you were satisfied with the way that we handled your contact.
Submit a Support Ticket or Use Live Chat
| | |
| --- | --- |
| Video: | ASL or LSQ: Dial 9050 within the app. |
| Email: | support@SRVCanadaVRS.ca |
| Mail: | Canada VRS Customer Service C/O IVèS Canada, Inc. 303-25 Avenue Mozart, Montréal, Québec H2S 1B1 |
| Telephone: | English and French 1-800-958-5856 |
| Live Chat: | Live chat is available during Customer Service hours on all the latest version of the Canada VRS application. |