Frequently Asked Questions
Canada VRS is for Deaf, Hard of Hearing or speech-impaired Canadians who wish to make telephone calls using Internet and cell-phone based technologies. VRS callers connect with a sign language interpreter who provides real time interpretation for these calls.
To register, you must be a Deaf, Hard of Hearing or speech-impaired Canadian who uses sign language.
Hearing callers cannot register for Canada VRS apps. However, they may call registered customers.
Canada VRS is free to use.
Yes. Canada VRS offers 9-1-1 support across Canada in both ASL/English and LSQ/French. All 9-1-1 calls are treated as urgent, go directly to first place in the Canada VRS queue.
The Video Interpreter (VI) and emergency personnel will always confirm the customer's location. That's why it's important that Canada VRS customers keep their home address up to date in the app. Note, the call is connected to the Public Service Answering Point (PSAP) based on the customer's location.
Once the location and nature of the emergency is determined, the PSAP dispatches either fire, police or medical responders.
The VI stays with the caller and assists the emergency services personnel as long as they are needed.
Warning
Because Canada VRS is internet or data service based, emergency calls made via VRS may not properly connect. For example, if there is an internet or data service failure or if you lose electrical power. Also, your 9-1-1 call may not be routed correctly if you have not updated your physical location information.
If you experience a technical problem dialing 9-1-1 via Canada VRS, hang up and re-dial. If you continue to experience technical difficulties, you may wish to try alternative services such as; landline telephone with TTY, Text 9-1-1, Relay Services or IP Relay.
Yes.
Customers may also call any 10-digit number in most locations in the U.S. without charge. If an area in the U.S. is not covered, (e.g. Alaska, Hawaii), the caller must use a long distance or international calling card to complete and pay for the call.
Customers can receive calls from anywhere in the world.
When using a calling card with VRS, you must dial the calling service number first and follow their instructions. Please make sure the calling card you select works with VOIP (internet based) services and/or cell phone services.
Point-to-Point calls between Canadian and U.S VRS applications are not possible at this time. Canada VRS suggests Skype or Facetime as an alternative way to communicate Point-to-Point.
Calls to 900 and other "Pay-for-Service" numbers including some 800, 888, 877 and 866 numbers cannot be made through Canada VRS.
Not yet. However, to keep personal and employment related calls separate, VRS customers can register for a 2nd account for work use.
Yes. If you have Internet or cell service, you can use Canada VRS the same way as if you were in Canada. That said, if you're using cell service with your mobile device, roaming charges may be significant.
Using Canada VRS while driving is not permitted. You are permitted to use the service as a passenger provided doing so does not create a distraction for the driver and you may also use the service when your vehicle is parked in a safe area. Our policy reflects the fact that CAV takes the safety of its customers, other drivers, as well as its employees and video interpreters very seriously. Our employees and Video Interpreters, in particular, should not be forced to face risks associated with distracted driving and CAV's policy reflects this.
You can ask the agent to explain their authorisation process to you.
You can explain what VRS is, how it works and explain VIs are subject to strict privacy policies.
You can tell them you "authorize or give permission" for the VI (the 3rd party) to be on the call with you.
You can ask for the agent's name or Staff ID and/or ask to be transferred to their supervisor.
You can file a complaint with the business or service or with the Financial Consumer Agency of Canada (FCAC). Click here to learn more.
You can provide them with "written consent". CAV has prepared a form, called "CONSENT TO DISCLOSURE OF PERSONAL INFORMATION". Click here to download the form.
You can research the organizations website to see if they have a policy regarding accepting calls from relay services. Example: The CRA website says: "You do not need to authorize the relay service operator to communicate with the Canada Revenue Agency."
Remember: This is your call and your personal information.
In addition to 9-1-1, (see FAQ #2), Canada VRS supports other 3-Digits for direct dialing from your VRS app. Check out the Table below to see what 3-Digit numbers are available.
Note:
9-1-1 is accessible across all Provinces. Please see FAQ #G2 for more information.
However, 8-1-1, 5-1-1, 3-1-1 and 2-1-1 numbers are routed to Provincial, Territories or Municipal services and not all support 3-Digit number dialing. Check out the Table below to see what 3-Digit numbers are available in your calling area.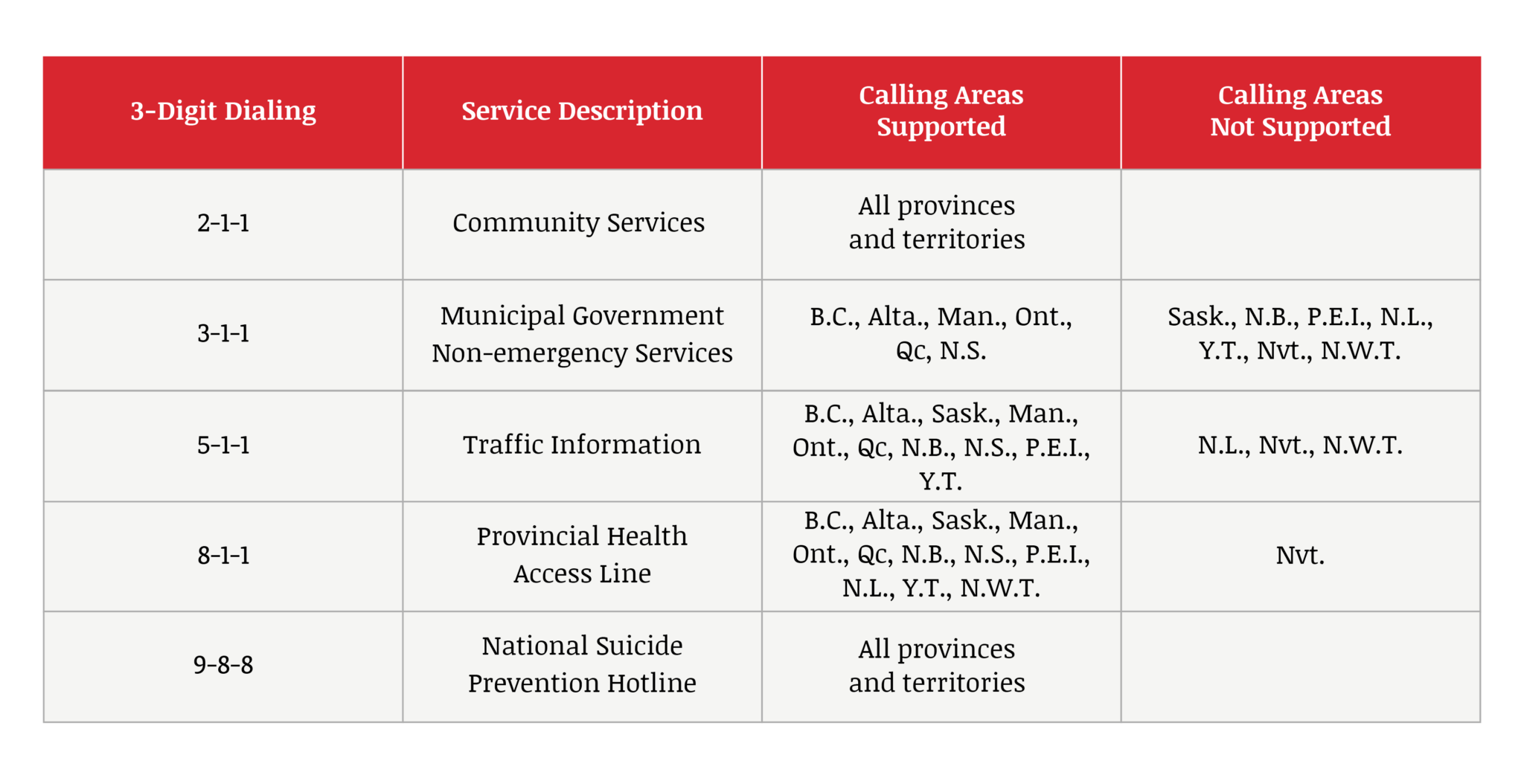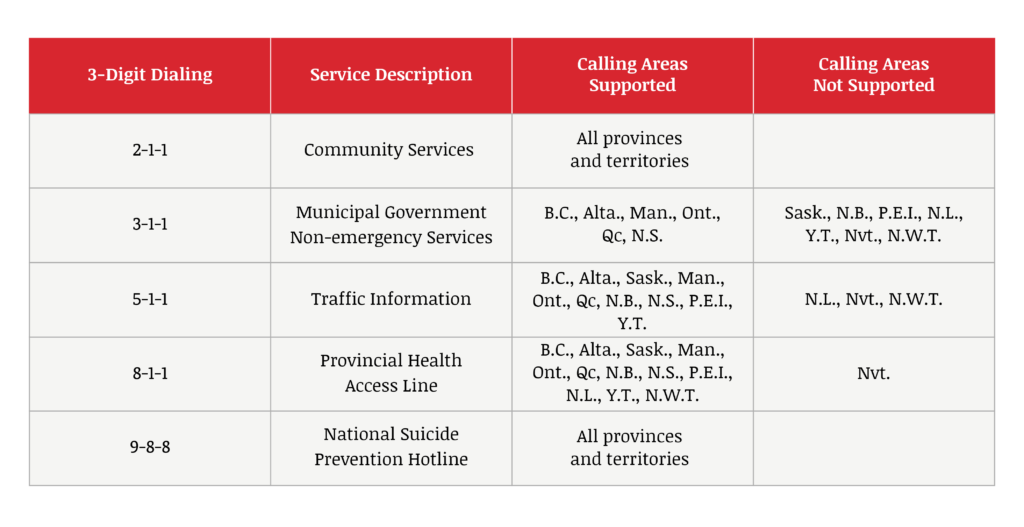 If your local area is not supported, the VI will receive a network message that says, "your number cannot be completed". This means you will need to dial the applicable 10-Digit number. Check your local directories for these numbers.
If 3-Digit dialing is supported in your area, the call will be routed based on the area code of your VRS number. For example: if your VRS number area code is (613), your call will be routed to Ontario services even if you are physically in a different province.
Canada VRS offers a list of 10-Digit Numbers for 8-1-1, check it out at: https://srvcanadavrs.ca/en/resources/resource-centre/access-3-digit-numbers/
Canada VRS does not have access to all of the Provincial, Territories and Municipality 10-Digit numbers. Please check your local directory for these numbers.
VRI is a fee-based interpreting service that lets customers communicate with others either in the same room or remotely using video interpretation services.
VRI is especially useful for scenarios such as: hospital or health care situations, business meetings and more. When you hire a VRI service, you are getting high quality interpreting services just like having an in-person interpreter. There are many VRI companies available across Canada.
Transferring is a way to keep interpreters healthy and safe, as well as help keep your wait times down.
As you know, interpreting can be tiring. Generally, VRS interpreters sign for 20-30 minutes depending on the call before needing a break. If they need a break, the interpreter may transfer the call. This allows you to continue the call without going back into the queue.
Transfers may also occur if an interpreter is ending their shift. If you call with less than 15 minutes before the interpreter's shift ends, they will let you know there will be a transfer.
Because every call features new people and a new topic, interpreters must adapt quickly and efficiently. When an interpreter is on a long call or many calls are waiting, the interpreter may postpone their scheduled break to help customers. In these cases, the interpreter will transfer the call when they can.
There are a lot of variables in the call centre at any given time and as a result, interpreters may transfer calls at odd or unpredictable moments. In cases where you require special attention or uninterrupted service, consider hiring a community-based interpreter or VRI service.
Voice Carry Over (VCO) allows Deaf, Hard of Hearing and speech-impaired users to speak for themselves in VRS calls. When the VCO feature is enabled on the user's app, it allows the customer's voice to be heard by the other party. When the other party responds, the Video Interpreter signs in ASL or LSQ. The VCO option can be enabled in the user's app Settings screen.
As a telephone services provider, CAV and its representatives cannot judge or moderate the specific content of calls.
However, you have the right to "refuse" unwanted calls and the following are tips you can use to reduce unwanted calls.
Inform the caller that you do not wish to receive calls or videomail messages from them and request that the caller remove your VRS phone number from their call list.
If your VRS number is listed in the CAV Directory, we suggest you consider removing it.
If you have the new PC or Mac apps, you can "Block" a caller's phone number.
Most importantly, if you perceive the call to be of a "threatening or illegal" nature, we suggest you contact your local police.
CAV works very hard at educating financial, healthcare, government, and other organizations about Canada VRS.  Inaccurately identifying yourself could undermine trust in the service and result in these institutions refusing calls from Canada VRS users. 
If you make a call on behalf of someone else please first obtain consent from that person and inform the called party of the fact that you are calling on behalf of someone else at the beginning of the call. It is your responsibility to represent yourself accurately when using Canada VRS.
In cases where VIs knows the VRS caller is misrepresenting themselves or is using VRS for unlawful purposes, they will not complete the call.
Please see the FAIR USAGE POLICIES section in the User Agreement at: CAV-User-Agreement-27-June-2018-Final-EN.pdf, in addition to these and other terms, conditions, rules, and policies which may be displayed, you agree that you will:
not violate any applicable laws or these Terms and Conditions when using the VRS Services, and you acknowledge that we may investigate any violations of law and may cooperate with law enforcement authorities in prosecuting users in this regard.
not engage in communications or conduct of an illegal, abusive, annoying or offensive nature when using the VRS Services and not allow others to access your account to do so. This may include indecent, obscene, unlawful, fraudulent, threatening, harassing or prank calls, the commission or encouragement of a criminal offence, stalking, harassment, spamming, disrupting or interfering with the Internet or any network, computer or other devices, transmission of a virus or other harmful component, collecting or storing personal data about other users, defamation, intellectual property infringement, or interference with other CAV users' services.
Conference calls can be very challenging for VRS users and the participants on the call, as they can be long, technical and involve the exchange of multiple participants. To make it easier and have more success we suggest:
Let the Host and participants know you are using video relay service (VRS) and there is a sign-language interpreter (VI) on the call.
Let the VI know this will be a conference call, the approximate length, number of participants and any helpful background information you have.
Ask the participants to identify themselves before they speak, to help the VI know who is speaking. Advise participants the VI cannot see them and that the VI does not have access to any of the materials they reference during the call.
If it is a long call with many participants, advise the host they should not use VRS for this purpose.
Further Note:
Advise participants that for the health and safety of the VIs and schedule demands, VIs may transfer calls, and on very long calls, they may transfer multiple times.

You will be first in line when you are transferred, but still may have to wait.

If the conference call is held during busy hours 9am-6pm ET, when VIs are the busiest, you may have to wait in the queue for the next available VI.
If the call is hosted by your employer, an organization, a business, an educational or government institution, it is the obligation of the host to hire an in-person, community interpreter or arrange for Video Remote Interpreter (VRI).

This is especially true if it is a long meeting. Remind the host that VRS is a telephone service where the average length of the call is about 7 minutes long.

Remember, VRS is not a substitute for community or VRI interpreting.
Yes. VRS users can let the VI know at the start of the call that they would like to self-announce rather than have the VI announce the call.
No. Only Registered Users of VRS can download the app and make pt to pt calls. To register, users must be Deaf, Hard of Hearing or speech-impaired and, use sign language.
No. CAV does not record the content of calls for quality and training purposes.  For quality and training purposes, calls are "monitored", side by side by interpreter supervisors. In these cases, the VI will notify the customer the call is being monitored for quality and training purposes, and the customer is asked if it is ok or not.
When organizations such as financial institutions and government agencies provide dedicated VRS phone numbers, Canada VRS callers can more easily access their call centers. Dedicated VRS numbers, like dedicated TTY numbers, minimize queues and ensure calls are answered by call center agents familiar with VRS. These numbers also reduce wait times and hang-ups and promote the efficient use of Canada VRS interpreters.
To ensure that Canada VRS users are aware of an organization's dedicated VRS number, CAV has been automatically adding this number to VRS directory.
If you are a PC/Mac user and you wish to add a Dedicated VRS number to "My Contacts," you only need to access the VRS directory and save the specific Direct VRS Number to your contact numbers. Any numbers added to My Contacts on Mac/PC will automatically show up on your mobile devices as long as you sign into the same account.
If you are a Mobile user only, you can manually add the Access number to My Contacts. Note that anything added this way can be deleted the same way.
Below, you can find the table with Dedicated VRS numbers that are effective and in service (in alphabetical order).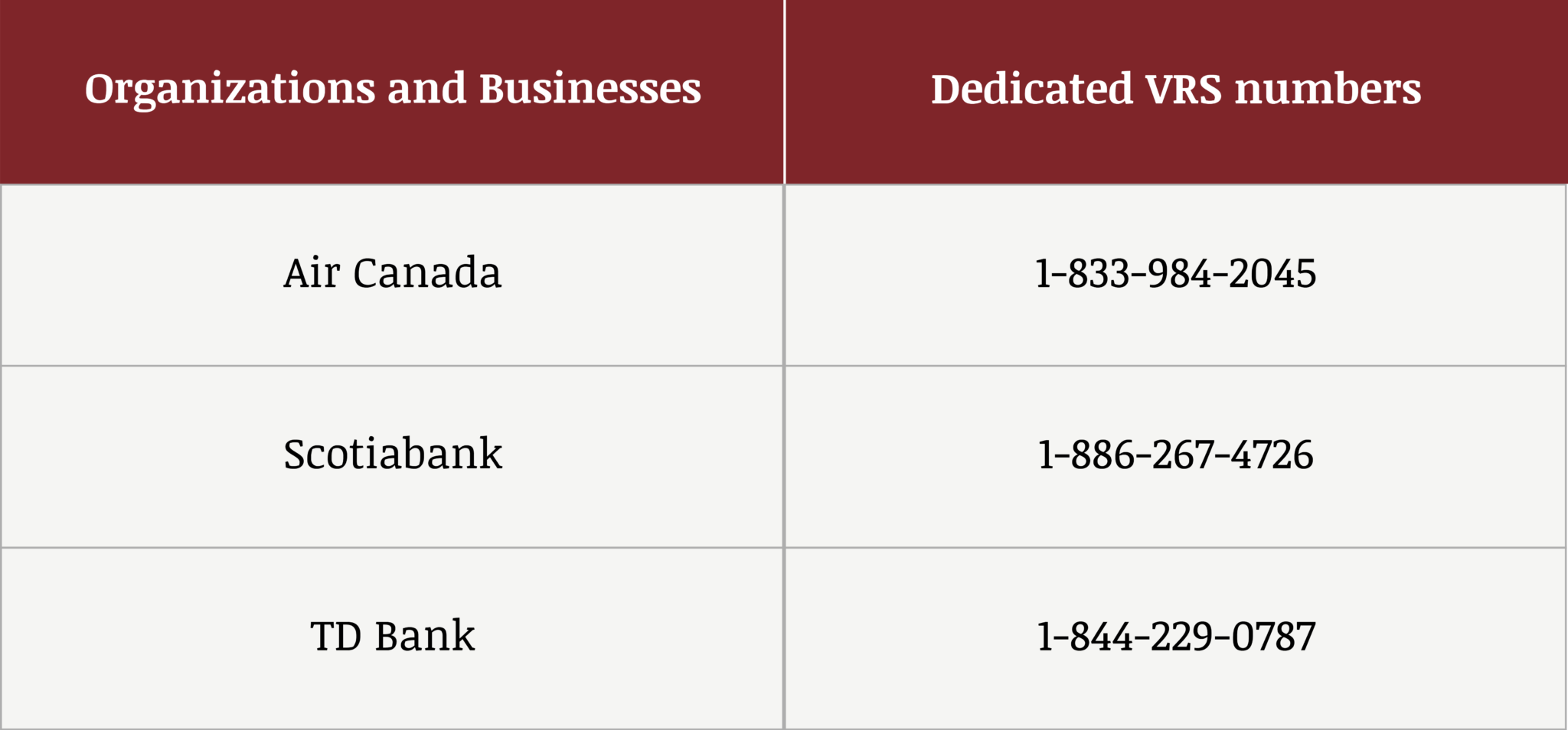 You can report your feedback to the Customer Service. When providing your feedback, you need to have the VI's identification number, the date and time of the call, the phone number that you called.
Submit a Support Ticket or Use Live Chat
| | |
| --- | --- |
| Video: | ASL or LSQ: Dial 9050 within the app. |
| Email: | support@SRVCanadaVRS.ca |
| Mail: | Canada VRS Customer Service C/O IVèS Canada, Inc. 303-25 Avenue Mozart, Montréal, Québec H2S 1B1 |
| Telephone: | English and French 1-800-958-5856 |
| Live Chat: | Live chat is available during Customer Service hours on all the latest version of the Canada VRS application. |