Preparing the Camera Frame
Make sure the bottom of the camera frame is at your waist or slightly below. There should be room on top and on both sides of the frame so your hands and face stay visible.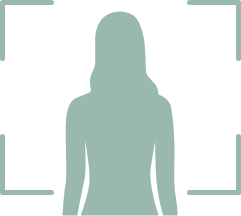 Ask the interpreter if they can see you well.
If they can't, make necessary adjustments before your call.
Make sure you prepare your device, app and internet connection to make your call.
Prepare anything required to answer questions.
Have a pen and paper to take down names, telephone extensions, meeting dates and other important information.
Set up proper lighting. Turn on a light, but make sure it's not directly behind you so you stay visible.
Consider a clear background colour and avoid wild patterns on the wall.
Avoid people moving behind you and animals crawling on your lap. They can be distracting.
If you're using your smart phone, set it down on a table to hold it steady.
Never make VRS calls while driving. If you need to make a call, pull over.